Custom Maglite Flashlights- The Best Hand Out For The Outdoor Season
Maglites have a million odd specialties worth celebrating. These American made flashlights are well known for its heavy duty design and seamless performance that makes it a favorite choice of the outdoorsy people, camping enthusiasts and more. It is a staple in any outdoor loving person's kit. Before unveiling some of the best selling models in maglites, let us take a look at its history.
History
Maglites date back to 1979 when Mr. Anthony Maglica designed the first maglite for the world. Made to the highest quality and precision, maglites continue to be technological masterpieces even today. Long lasting and tough, these are often passed down the generations and make valuable heirloom items in most homes today.
Why maglites are unique?
Maglites are available in a range of models and colors that range from the small, pint shaped models to the large and heavy duty models. Maglites can be clipped to the backpacks or can be used for reading in the camping tent or while setting out on a night fishing trip.
The best quality of maglites is its tough design and reliable performance that will make it a trusted item in every emergency kit. The corrosion resistant premium quality aluminum outer casing and an adjustable light beam that can be adjusted to a full strength stream and a fine spot to match the needs of the users are its main highlights. Maglites are designed with high standards of quality and dependability to last long and ensure a trouble free service for a long time.
Mag-Lite Solitaire Flashlights: Maglites make popular promotional gifts that nobody can resist. These delightful Mag-Lite Solitaire flashlights that are offered in 5 solid colors can be easily slipped into pockets, bags or backpacks. The nylon lanyard attached that makes it an easy carry around. These made in USA promotional flashlights are ideal for promoting light services, technology or any other business.
FLAG Mini Mag-Lite Flashlights: Promotional FLAG Mini Mag-Lite flashlights make one of the most loved promotional gifts among marketers around the USA. Small yet strong, these flashlights can be focused from flood to a tight spot. 100% made in USA these flashlights will make a highly functional gift item that your customers will love right away.
ST3 Mag-Lite LED 3D Flashlights: One of the most reliable flashlights, ST3 Mag-Lite LED 3D flashlights these promotional flashlights feature colorful and sturdy metal barrels printed with your brand logo or message. These make perfect employee loyalty gifts, store promotional gifts and more. Available in several attractive colors, you can easily have your choice.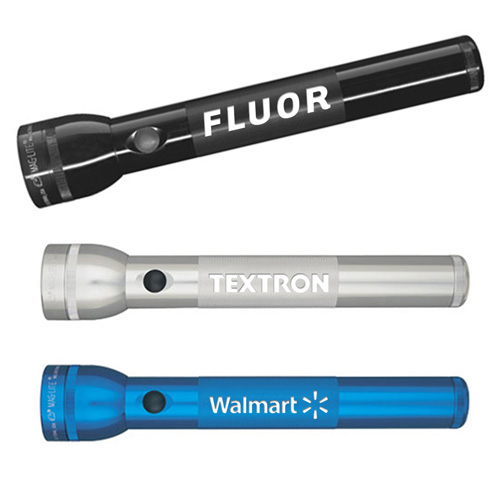 Maglites are often touted as the last name in flashlights for its heavy duty design and amazing performance. By putting your brand on these premium quality flashlights, you are rest assured of a high speed portability and exposure for your brand.