Custom Maglites Wholesale For Winter Promotions
Winter is here! The nights are dark and cold and people get busy defrosting their cars every morning wearing gloves and winterwear. So, if you are looking for a promotional gift idea other than the run of the mill outerwear or icescrapers, then custom maglite will be a good choice. This slim flashlight that easily fits in a bag or purse is available in several colors. Imprint your logo and message on these Made in USA custom maglites to make your winter promotions safe and steady. Though Maglite torches are costlier than ordinary incandescent torches, these will ensure the best value for your money and long term brand exposure.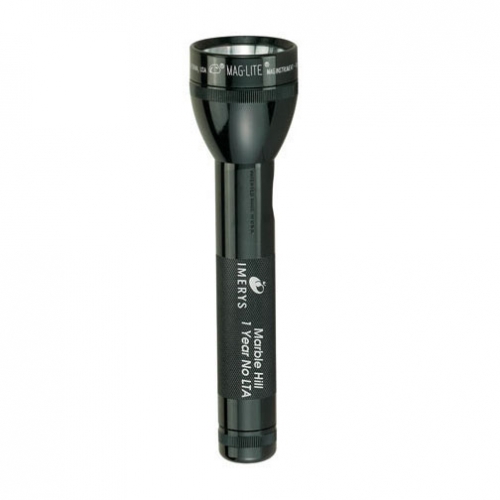 Maglites that date back to 1979 stand out for its strong metal body and powerful LED bulbs come with three convenient lighting modes for general, outdoor use and tactical. The accessories like belt holsters and mounting brackets will make it a perfect option for rugged outdoors and hostile weather conditions.
Maglite advantages
Business owners can hand out these promotional maglites to help their customers to avoid the dark and promote their logo at the same time. From finding their way in the darkness or the keyhole in the dark to retrieving lost items, flashlights come handy in countless situations. Apart from keeping your customers safe and secure, flashlights help them retain their presence of mind even in the most challenging situations.
These Made in USA logoed Maglite torches will light up the lives of your recipients easily.
Designed to bear the daily grinds, these logo torches will enjoy a long retention among your consumers.
Unlike regular torches, one doesn't need to carry the batteries as these are powered by LED technology.
Handy and compact, maglite torches will ensure the much desired portability to your message.
Distributing custom maglites
You can distribute these promotional flashlights during tradeshows or winter promotional events and community events. These will also make perfect employee gifts or as safety kit items during winter season.
Here are some of the popular models in custom maglites
0.375 Inch Custom 3C MagLites: It makes a reliable and sturdy lighting source even in the unkindest weather conditions. Shock and water resistant, this Maglite produces adjustable and high intensity beam that range from a sharp spot to a flood of light will make it a perfect choice for outdoors.
2AA MagLite with Multifunction Tool: Small in size yet high in functionality, these mini maglites make a perfect promotional gift all round the year especially during winter. Light weight and handy, your logo on these flashlights will travel places with your happy recipients.
Custom MagLite Combo Set: This combo set that comprises of 2 Maglite sources measuring 3 ¼ and 5 ¾, 1 AAA and 2 AAA batteries with attached key ring/lanyard is offered in a pretty presentation gift box. Advertisers working on a constrained budget can seek these functional flashlight combo sets to brighten up their promotions.
We have a range of logo maglites that make excellent logo gifts to promote lighting businesses, adventure holidays, security services and much more. Designed to last long, these flashlights make reliable and superior quality promotional gifts. Apart from being promotional gifts, Maglite flashlights can also be used as defensive weapon for security services as the strong metal body can be used as a baton while the piercing beam of light will leave the attacker baffled.