Wake customers with Custom Pocket Whistle Keychain Flashlights
Want to be a gravity defying innovative entrepreneur?  You can very well, if you have the potential resource to accelerate your business. Yeah, the customers form your major resource.  As the old saying customer is definitely the king. They spend money in exchange of your products and services for a better living. So it is your responsibility to keep them happy. Getting more customers and keeping them glad is no cakewalk. You have to take intelligent decisions to keep hold of your customers. Competitors are around and they can very well magnetize your customers to them. A customer will get attracted to the competitor when you fail to offer what they want. So they no more consider your products and services. To get across this you have to offer them something that make them care about you. What is that "something"? It is nothing but a personalized gift that shows you are concerned about them. It's high time to wake your customers by creating a prominent brand promotion. Get it done with the attractive custom pocket whistle key chain flash lights.
While focusing on your existing customers, you should also take immense care to drive more and more new customers to your business. The custom pocket whistle key chain flash lights are a great idea for that. Get your brand name imprinted on a bunch of those attractive key chains and distribute among the prospective customers to give them a better perception of your products and services. It can help them in many ways. People usually use a whistle to issue or respond to specific distress signals. They are used in various emergency conditions like rescue operations.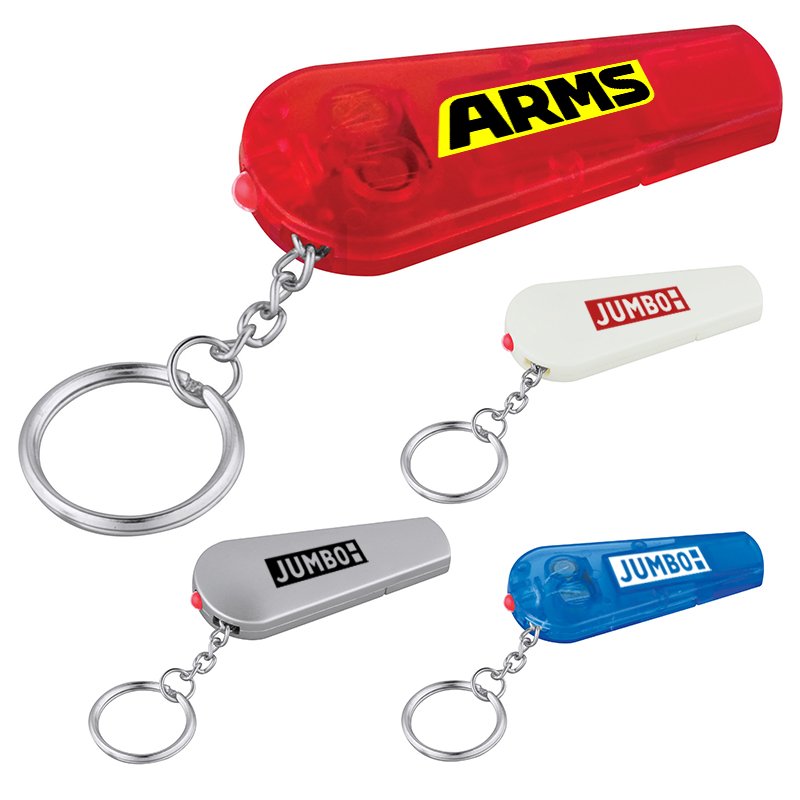 Common man finds a key chain whistle useful when in a personal emergency like facing a personal distress and need support. It is a very useful item for hikers and water sports lovers. Since compact in size, it can easily fit in every pocket. You might have noticed that most of the people normally wear lanyards with work Identity cards, transport passes etc around their neck every day. Then why not hand over these custom pocket whistle key chain flash lights to tie along with these cards to keep your customers better prepared.
You may come across a number of disasters every day like being trapped in an elevator after a power failure, fall down a flight of stairs, get lost in the woods during a trekking, or witness a criminal act etc. During these situations you can very well use a whistle. The custom flashlights serve you with little light to safeguard yourselves. Likewise disasters can immobilize or inactivate your well wishers too. So you can offer an extended hand of help by providing them such innovative keychain flashlights. It can definitely help them if they are conscious and breathing.
Sometimes back, key chains were simple items to keep your keys. But now the use of key chains has changed. Now you may even find them hanging on a bag as bag's accessory.  The varieties in key chains extend from bottle openers to whistles and even nail clippers. It is an effective brand promotional idea. These are all time style accessories and can use it to promote your business throughout the year. Get a bunch of those custom pocket whistle key chain flash lights and imprint your logo and brand name neatly on them. You know your customers inside out. So be creative and bring out the best designs for imprinting your brand name and wake them up to open a brand new world of opportunities.