What makes Custom Maglite Solitaire a high value corporate table gift?
Custom Maglite Flashlights have been hot favorites among advertisers targeting to reach out into blue chip corporate clients and companies for their high value and iconic 'Made in USA' symbol!
If you are looking for a value added gift from custom Maglites, opt for the Custom Maglite Solitaire that is offered with malfunction tool, lanyard spare light bulb in tail cap, and 1 AAA battery. It makes a small and compact gift suitable as table giveaways at year end functions. The guests would love the stunning looks of this flashlight coupled with its handy design and upmarket designs that people simply love to carry along.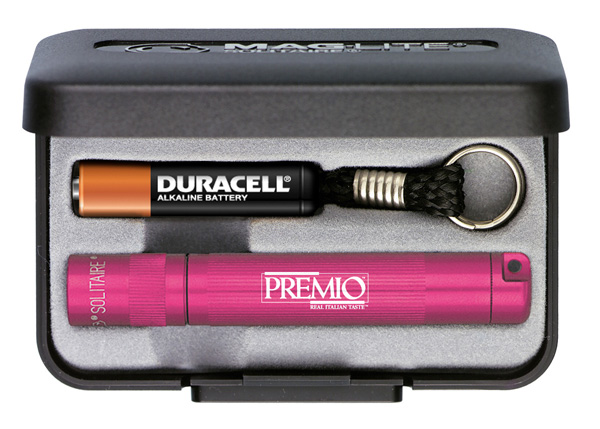 Ideal for daily use
MagLite Solitaire Flashlight has a sturdy body made of aircraft aluminum with a positive on-off rotary bezel switch that changes the beam from a flood light to an intense spot light. It makes a great gift idea for promoting automobile manufacturers, airlines and people operating high-tech companies.
This handy flashlight that boasts big light power features retains the classic look of the original Solitaire flashlight dating back to 1988.
Sleek design
Sleek and durable, this flashlight is a powerhouse of sorts that brings together some of the iconic features of Maglites. Superior brightness with an intense light beam, candle mode and water and shock resistant features go into this lightweight yet strong aluminum alloy case. The state of the art LED features ensure a blast of power. For a small flashlight like Solitaire you would surely not expect that it can dart out a 37 lumen blast of power that can even light up far away objects! Weighing at only 24 grams, the Maglite Solitaire fits conveniently into the users pockets and purses. It offers the same aesthetic brilliance and craftsmanship found in every Maglite flashlight.
Prestigious gift idea
Maglite Solitaire makes a prestigious gift idea and top quality brand especially for the outdoor and leisure market. People find it useful during power outages and it doubles up as a dependable safety accessory on hand or both men and women. Advertisers can hand out even a mix of colors to add a visual appeal to this high value gifting idea. Solitaire makes an excellent option in the compact gift section that is easy to be packed and left on tables for the high profile guests and business magnates.
The Solitaire is slim, stylish and it works on one AAA alkaline battery. Turn the head of the light switch on /off your unit or to focus the beam from a spot to flood light to ensure maximum visibility. There is a range of colors and styles to choose from. These laser engraved flashlights make good gifting ideas for incentives, sales recognition awards and also make quality corporate gifts. The marketers can imprint the logo or the promotional message onto the colorful body to make bold and beautiful promos!
It is ideal for all types of customers and advertisers can still manage to create a style statement among their elite customers without having to shell out a fortune with this stylish Maglite flashlight.