Why not try out custom rubber flashlights to create a unique brand image?
Everyone finds it difficult to choose a compatible flash light that suits every situation.  Why don't you help your customers by offering them durable Rubber flash lights? These are perfect choice for any harsh situation when compared with other flash lights. Your customers will find this a great way to enjoy their night activities out on a dark rainy day.  If you are an advertiser who do not have budget constraints, then you can very well try this out. They offer a great value over other flash light variants. Imprint your brand name and logo on to it and distribute among the customers to get noted in the crowd.
The rubber flash lights are remarkably different from other flash lights in the fact that they have a rubberized- plasticized body and a push button flash light. So your customers can very well enjoy rain or other extreme conditions without affecting the durability. It offers them a quite comfortable grip to hold on. These are efficient companions for a use in the long run. The rubber flash lights are powered with AA and AAA batteries. Your well wishers will definitely love these light gadgets. It is small in size and hence could be well packed in to a backpack or a tackle box.
You may have many customers who love outdoor activities like fishing, trekking and camping. They can be very well gifted with such utility gadgets like promotional lights. Likewise if you run a business related to travelling then these rubber flash lights are cool gifts. Nothing works out more than a mouth to mouth publicity. If someone recommends your brand name, then that is the best advertisement you can have. Get this golden opportunity to get publicized through your customers.
Gifting them with such useful gadgets like rubber flash lights will surely remind them of you with appreciation. They will let others know the services you have offered them too. Apart from that such gadgets will grab the attention of others when your customers use it.  Thus business promotion becomes quite easy if you have a powerful tool like rubberized flash lights. You will get it in a variety of colors too. The choice is yours to get your imprint done on a custom rubber flashlight. Different types of rubber flash lights like customized delta flashlight and customized 2D G-Tech rubber grip flashlights are quite wise choices.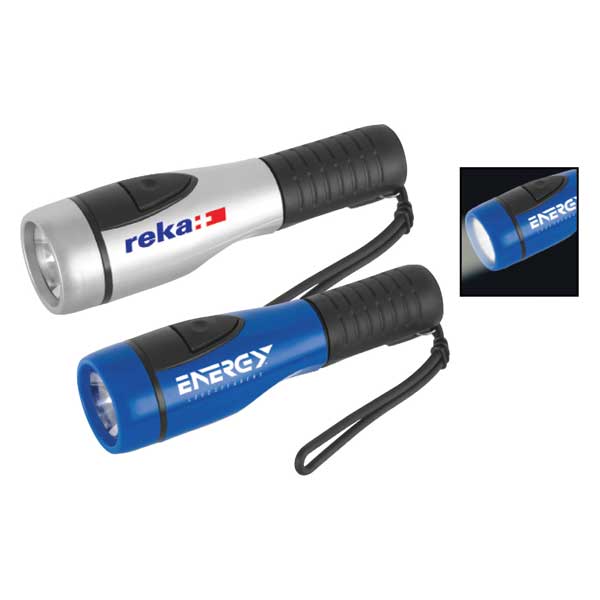 It is indeed a wonderful idea if you get a life time profit on a one time investment. Apart from using the rubber flashlights as a promotional gift for your customers, these are wonderful gift ideas for employ appreciation too. Flashlights are something everyone need and they will definitely hold on it as long as it runs.  These are needed when you do a plumbing work, searching a long abandoned item in the dark attic or doing electrical works when there is no power. Hence gifting such useful items that last for long will add to your credibility in the long run. Since rechargeable, they could be used for a long time. So they could be powered very easily.
Brand name imprinted rubber flash lights will definitely bring more attention of potential customers than you expected. They are always worth the investment. It can raise your brand image to a higher level than you expected. Now why not try out the custom rubber flash lights to create your unique brand image among the people.