Imprintable custom Maglite solitaire navy blue to catalyze your brand identity
Every human mind gets confused over selecting a gift. That becomes more intricate, if the person whom you are going to gift is someone special in your life. The same happens with business people too. When it comes to business promotion, every entrepreneur burns his head as he is going to gift his customers who are the reasons for his success. Brand engraved personalized gift is a wonderful idea for any seasonal gift or occasions. The custom Maglite solitaire navy blue is a good gifting idea as it could interact with the customers in their daily activities. This links your brand name with prospective customers too.
A business promotional free gift should be a memento that could accompany the customer every time he goes out. Maglite solitaire is a very useful item that keeps your customers from darkness. It is ideal for many outdoor needs. Your customers will find it very useful to guide a dark path. The hiking folk will love this for sure particularly when they find it very handy during camping situations. Many a times, they will have to spend quite a time outdoor in dark. Campers do chit chatting around a camp fire. Sometimes they will have to move to a shower house in darkness. In all those cases, a promotional Maglite solitaire can help you out.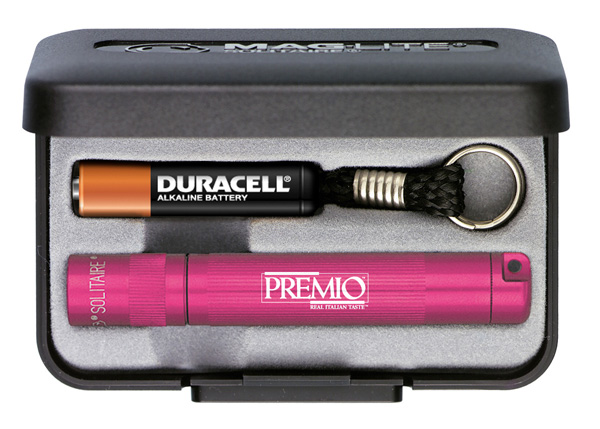 Unexpected vehicle break downs can happen anytime. It is always a good idea to have a custom Maglite solitaire navy blue in the car ready to face an emergency situation. If you do not have a source of light in a deserted high way, things will turn you upside down. A source of illumination can help you a lot in such a condition. This bright source of light can help to have a look on the tire or underneath the car to see what is wrong. A Maglite solitaire can be even used to catch the attention of others so as to help you.
Custom Maglite is a must have in every night hikers back pack. Hiking is an adventurous sport where they must be well prepared to face many emergency situations. The hikers should be well equipped with a good source of light. Many cases trip won't go as planned due to these emergencies. The hiking could be proceeded well planned to a certain extend if they have a reliable source of light like a Custom Maglite Solitaire. In our daily life, there will be many situations where we have to go out by foot late night. This could be as part of a romantic walk down the street, or to a restaurant or to visit your friend in the neighborhood. There are chances to come across something unusual like a sound or a shadow or some unfamiliar persons. Sometimes you will have to keep away from stray dogs too. In all these cases, a source of light should accompany you for sure. When you gift your well wishers with such brand imprinted promotional item, you give them a chance to remember you through the light.
Key chains are excellent reminders to show that you care. Never underrate since it is a small device. Even small things can do wonders. The benefits offered by a custom Maglite Solitaire is beyond your expectation. Provide your customers and employees and enlightened path by gifting them attractive imprintable custom Maglite Solitaire. This will definitely enhance your brand identity.