Flashlights – The Most Popular Custom Gifts For Fall And Winter Season Promotions
The clocks will be turned back soon and the day light saving will end- Fall season is here and winter is close on its heels. For marketers who are scouting for an appropriate custom gift that will boost up their promotions will find custom flashlights a great choice. As the nights get longer and darker, everyone will need an extra flashlight for their car, home or garage.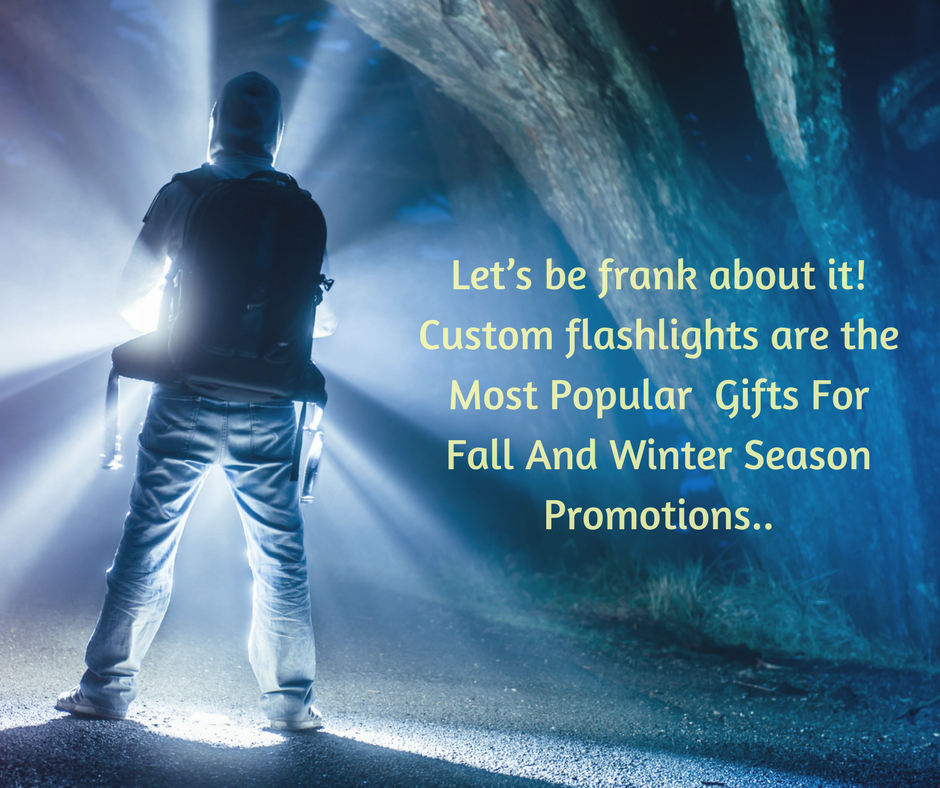 Let's be frank about it! Custom flashlights are promotional items with staying power. The best part is that every household needs these essential items to keep themselves ready for any unforeseen emergencies. A reliable flashlight will keep everyone safe and confident. Highlight your message by putting your brand on custom flashlights. Apart from being a daily use item, flashlights make an essential item in safety kits and travel bags. Flashlights accompany your recipients wherever they go especially during night events and adventure trips. From small keychain flashlights that can be slipped easily into purses or pockets to large and heavy duty maglites and everything that falls in between, custom flashlights are available in a range of patterns and sizes. Every time your recipients light up their way and the dark corners, they will be reminded of your brand power. A highly functional flashlight will also double up as a great talking topic in the friends circles of your recipients. Everybody will be interested to know more about the brand that gifted such a useful gift item for sure.
Flashlights have great powers of brand promotion and illumination! Studies prove that customers remember brands that hand out custom gifts more than those that do not use promotional items in their marketing. Flashlights make handouts that your recipients can actually use. Perfect for any industry and to reach out to a diverse audience of all age groups and gender, flashlights are always well received and retained. So, if you have been wracking your brains thinking about the right size or favorite color of your audience to hand pick that perfect gift, flashlights will relieve all these promotional woes.
No matter which model or color you choose in custom flashlights, your audience will love it every inch provided these ensure trouble free performance. Custom flashlights make perfect handouts for tradeshows, safety awareness campaigns, seminars and fund raising events. Your brand name on these will be illuminated far and wide.
If you are planning to use custom flashlights like many of the other marketers out there, we can help you jump start your campaign by listing out some of the top selling models. Check it out right away. Did we say that bulk orders carry the best deals too?
Multitool flashlights: A flashlight may be an emergency and safety item alright. So, why not enhance the usability of these light sources by adding some handy multitool features into it? Check out these smart flashlights that not just make a reliable light source but many other tools like screw drivers and tire gauge among others.
Carabiner Flashlights: Flashlights are likely to get dropped or misplaced easily especially while on adventure trails or outdoor trips. These carabiner flashlights will keep the lights as these can be attached to belt hook or backpacks to ensure a steady light while leaving the hand of the users for free during adventure activities. It is one of our hugely popular fall season staple; go for it!
Metal flashlights: Sturdy and elegant, metal flashlights are available in a bevy of models, color choices and sizes. Customize these with your brand and message to get regular brand impressions without any repeat investment or effort. Some of the models to consider include camouflage models or lantern flashlights among others.
We have a lot more! As they say what is unseen is more beautiful than what is already seen. So explore to unveil our complete line of flashlights and choose the one that suits your tastes.