Heart Shaped Custom Flashlights For Valentine's Day Promotions
Looking for a perfect Valentine day gift that will fill the hearts of your recipients? Choose something that is not just novel but functional as well in the form of these heart shaped flashlights, which your recipients will retain for a very long time even after the Valentine's Day celebrations. Flashlights have always been popular promotional gift items because everyone needs it in their daily lives. Custom flashlights are versatile gift items that will appease recipients of all age groups and demographics. Not many people can resist these items for sure.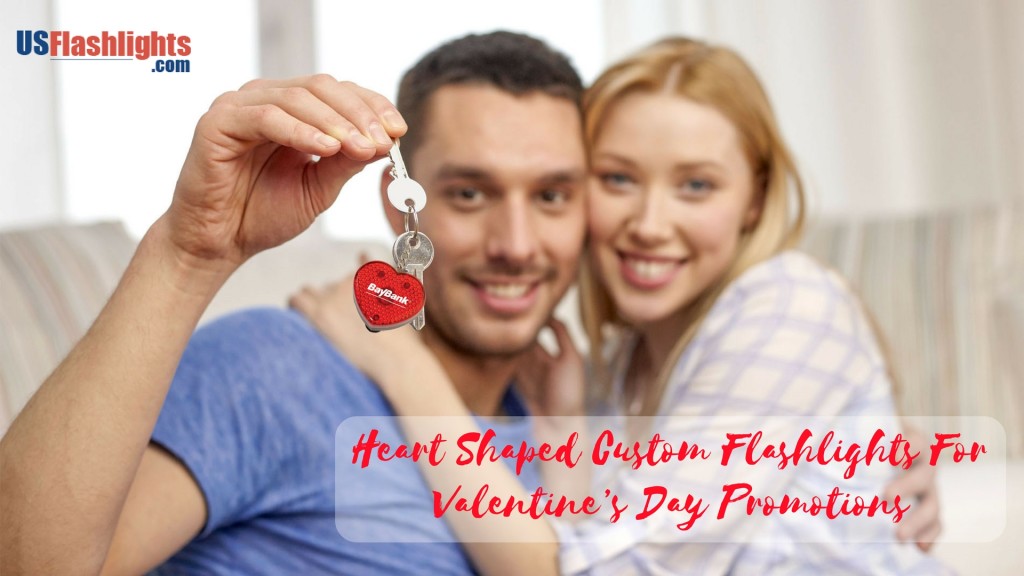 Give a romantic twist to your Valentine's Day promotions by handing out these heart shaped flashlights.
Personalized Heart Flashlights: The heart shaped red LED flashlight will make a perfect gift item for Valentine Day promotions. The flashlight is illuminated with red LED and its lighting can be controlled through a click on/off button at its back. The flashlight can be easily affixed to bag packs, pockets, bags, purses, belt holes, etc through a clip present on its back. The generous imprint area of these flashlights can be utilized to carry your brand and message. These custom flashlights are perfect to promote concerts, night clubs, fun events, bars and fashion brands among others. Marketers who wish to make Valentine's Day the theme of their promotions will find these items a great bet.
Credit Card Heart Shape LED-White Custom credit card heart shaped LED that emits red colored light will make a perfect gift for Valentine day promotions. This LED can fit into pocket and it can be carried during the long trips. The LED is powered with environmental friendly Lithium batteries, which makes it a good choice for safety programs, awareness programs and self-promos.
Heart Keychain Flashlights Custom heart keychain flashlight will easily grab the attention of everyone around due to its unique shape. This keychain makes a good tuck away in pockets, and over vehicles and will double up as fashion accessory. Personalize it with your brand and message and every time your recipients carry these around, your brand and message on these will grab the attention of everyone around.
Valentine's Day celebration is not just limited to heart shaped gifts, chocolates and red roses but is also about trips and travels. So, if you are looking for out of the box gift ideas, this roadster gift set will be a good choice to consider. A perfect gift choice for the outdoorsy people, these gift sets will make a useful tool set that includes flashlight (includes 2 AAA batteries), tire gauge (Max 50 psi), and colonnade twist in silver.
Custom Aluminum Multi-Tool Kit with LED Light is another wonderful option to consider. This multi tool kit will include Magnetic Port for Accepting Bits, Extra Bright White LED Light, Button Cell Battery Included, Removable Pocket Clip and 3 Flat Head and 3 Phillips Head Bits.
Custom flashlights will make excellent gift ideas to consider all round the year as these enjoy a high level of retention among the recipients. Need more? Browse our extensive collection of custom flashlights and choose a model that will suit your budget and requirements. Should you need any tips or assistance, we are only a call away.
Share and Enjoy