Keychain Flashlights – Light Up Your Promotions in style
Companies are always on the look out for inspiring and innovative ways to promote their brand and to boost sales. News paper ads and TV spots fail to give any lasting results as people forget once the ad passes. To put the brand fresh in the minds of people with a short attention span is a tough job indeed and that is where custom gifts score big!
Businesses that want their brand to remain in the midst of their target audience for a very long time since the initial promotion can consider popular promotional gifts to do this task. People by nature love to get free gifts. it will not just make them feel well appreciated but will make them gravitate towards your brand. If the gift you choose for them is something trendy and functional alike, they may not even be able to stop talking about to take your message to a wider audience that spans well beyond your original business patrons.
So, when you need something that would keep promoting the company and keep the clients happy, place your bets on these flashlight keychains. It will ensure the best of both the worlds of a reliable key holder all the while being a handy source of light whenever they need to see in the dark. Be it to find the car door slot in the dark or to find a lost item in the ill lit attic or more , these flashlight keychains will come handy many times a day. every time they use these keychains, your brand will become part of their life style. They will surely love to show this off to their friends and family, thereby setting off word of mouth publicity.
Be it in office , home, car or in the safety kits, these functional custom flashlights will always remain in the high visibility areas of your recipients unlike many other promotional items that remain hidden in bags or pockets all their life! Your customers will surely love this custom item that will keep your brand in their mind for years to come as they use it as light or a key tag. Make sure to personalize these with your brand and message to make these custom gifts a walking talking billboard for your brand for a very long time.
Now for some popular keychain flashlights that you will love for sure
Slim Rectangular Flashlight: These slim and sleek flashlight keychains offered in a palette of colors will make great tradeshow handouts and mailer gifts. Your recipients will surely find this gift item useful for their camping holidays and road trips.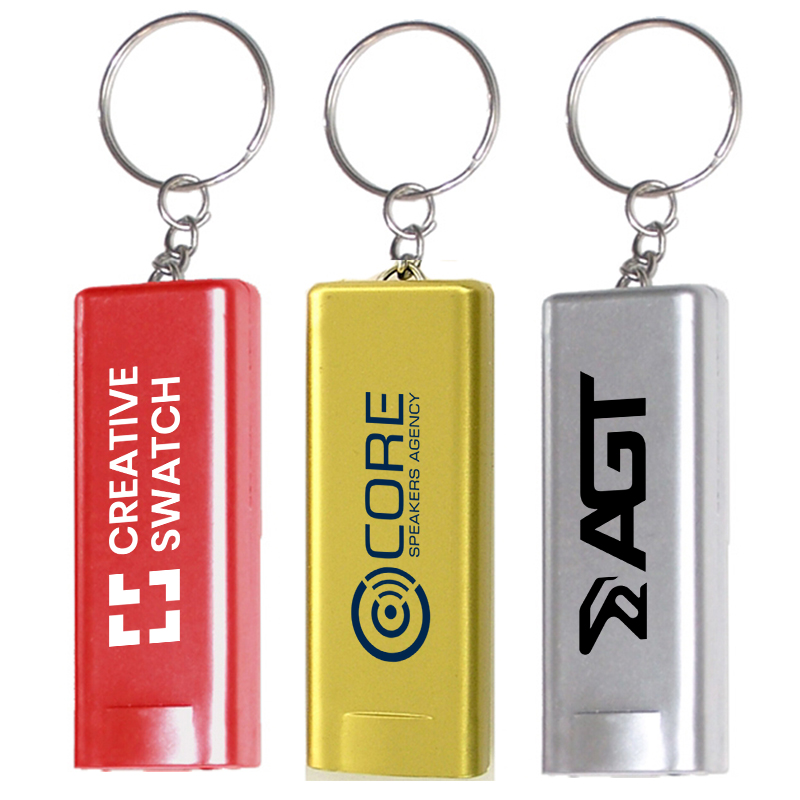 Aluminum LED Opener Keychains: Bottle openers are something everyone needs so are keychains. Check out these smart hybrid gifts that bring together both bottle openers and keychains to ensure the dual advantage of both! Offered in a palette of brilliant colors, these logo items are ideal for road trips, school, office, and homes.
Round Simple Touch LED Keychains: These dainty delights will never fail to make your recipients fall in love with your brand at first sight. Offered in several attractive colors, these LED keychains will never fail to keep your brand well lit up!
Which one of these flashlight keychains are you planning to use it during your campaign. Tell us in our comments and join our conversation.