4 Top Reasons That Make Maglite Flashlights A Smart Custom Gift Choice
Maglites have evolved to  be a popular and trusted name in the wide world of flashlights. If you are looking for a custom gift that will promote your brand , bring back those few unhappy customers or builds a buzz about your new store opening, look no further than custom maglites.
Here are 4 top reasons that make maglite flashlight a smart gift choice.
These flashlights are exclusively made in USA and abide by the ANSI standard. Maglites make iconic symbols of country pride and its name stands for trust and quality
Maglites are guaranteed for life. If you are looking for a quality gift that will portray a perfect brand image for you, then maglites will make a great choice.
Great for the rugged outdoors and bad weather conditions, maglites will ensure a trouble free lighting source when things are far from fair.
The light beam can be adjusted from a sharp spot to a wide beam to suit the needs
water resistant and shock proof, maglites use long lasting LED lights that will remain very bright for a very long time.
High value custom products like maglites will give your brand a tag of quality and reliability. Your message and brand on these daily use items will get a lot of attention. Originally developed as a sturdy light for the cops, maglites have come a long way to become a trusted flashlight choice among millions of homes and organizations across the country and beyond.
Get started with some of the best selling maglites and leave a lasting impression among your audience.
M3A Mini Mag-Lite Flashlight: These handy flashlights that measure 5" in length and equipped with a pocket clip will make a popular marketing swag. Maglite flashlights powered  by 2 AAA batteries can be converted to free standing candle mode. Customize it with your brand and message to make it your unique marketing tool.
MagLite Combo Set: Offered in an elegant presentation gift box, this custom Maglite combo set includes 2 Maglites 1 AAA and 2 AA batteries, with key ring/lanyard. It will make great corporate gifts items or end of the year appreciation gifts for your special clients. These crowd pleasing flashlights will give your brand the much desired portability and exposure. Go for it!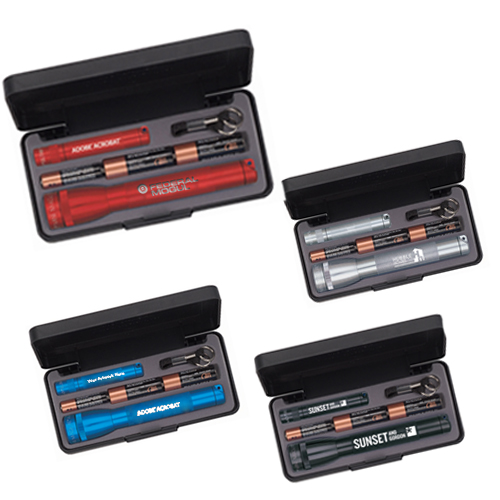 AA Mini Maglite with Architect Multifunction Pens: At a time when multitasking is the norm, these combo maglite with multifunction pens will make a well retained gift for your clients and customers. The pack consists of the popular AA Mini Maglite and a multi-function pen, removable stylus, multiple screwdriver bits, built-in level and ruler markings. Packed in a presentation gift box, these logo items will make a great brand building gift.
Have you used custom maglites as your promotional swag? If yes, do share your experiences with us at the comments section below.