Custom Maglites- A Gift That Is Fit For Even The Most Discerning Recipients
Maglites have evolved to be a pride of American identity and quality and has left a lasting impression in the minds of the users. 38 Years and counting Maglites has indeed changed the lighting solutions on its head. Everyone will have a special reason to choose maglites. Be it as part of their family heirloom or someone who carried a heavy duty flashlight while in police force, to show the American legacy and craftsmanship or the LED technology, there are countless reasons for people to celebrate these brilliant masterpieces that are here to stay forever. Maglites are not just ordinary flashlights and no matter why you choose these custom maglites, you will be incredibly glad at your choice.
Legacy
Maglites first hit the market in 1979 when Mag Instrument made sturdy and reliable flashlights that were exclusively made for law enforcement officers, emergency responders and military service members. Shock and water resistant, these flashlights stand out for its unique feature of adjustable beam of light that can be adjusted from a fine point to a wide beam by just turning its head as per the lighting needs of the users.
Maglites – the middle name of quality
Mag-Lites have literally revolutionized the world by offering a durable light that lasts for a life time. The unparallel brightness of maglites that surpasses any other flashlight ever made will make it a trusted choice for maintenance workers, exterminators, cable men, heating/air conditioning installers and more.
Maglites As Marketing Tools
Promotional Maglite flashlights are great choices as corporate gifts and promotional items for industrial promotions, safety programs, adventure sports and more. Offered in various models and price points there is something special for every event.
Here are some of the custom maglites that you will find interesting.
Mag-Lite Solitaire Flashlight with Lanyard / Keyring: Enjoy the maglite excellence on a budget with these combo items that feature a maglite flashlight in a lanyard and keychain. Customize these with your brand and message to make it well retained custom gift.
10 Inch 2D MagLite Flashlights: Ensure the dual advantage of the most brilliant light beam and minimum battery consumption with these attractive maglites offered in a box. Customize these with your brand and message to make it a good investment for any season.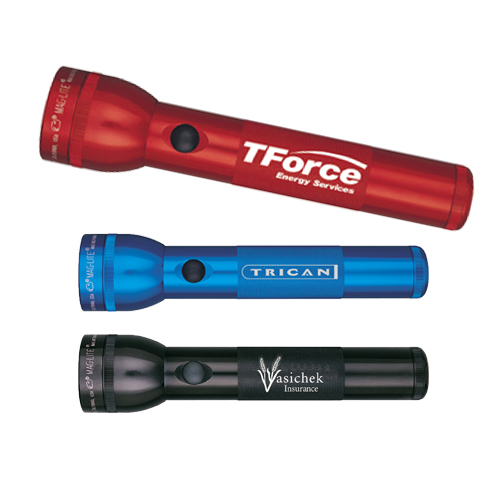 LED Mini MagLites: Compact and sleek, these mini maglites offered in various attractive color choices will make a great promotional gift to consider. Offered in an elegant presentation gift box, these logo items make great corporate gifts, store promotional items and referral gifts among others.
S2D Mag-Lite 2D Flashlights – 3 Colors These custom printed flashlights are made of durable 10" metal barrel and available in several attractive colors of your choice. A perfect addition to the emergency kits for homes, cars or offices, these logo items will make your brand well seen for a very long time.
Share your experiences of using custom maglites in your promotions at the comments section below to join the conversation.