Custom Maglite make clear winners when quality matters

Custom Printed Flashlights make highly practical gifts that everyone will love to receive as free gifts. The popularity and the brand exposure powers of these gifts will go up further when these promotional gifts are of high quality and classic designs. This is where promotional maglites come into the bigger picture. If you have been wondering about an extraordinarily fashionable and functional gift for your special clients, not many options can match the charm of these flashlights.
Imprint your logo, business message and contact details on these elegant maglite flashlights to spread a word about your business as these spread light in the lives of your recipients. These heavy duty flashlights are well suited for the rugged outdoors and people will love to take these flashlights with them the next time they go camping or hiking. You are all set for massive word of mouth publicity as whoever sees these spectacular flashlights cannot help talking about these master pieces. Every time your recipient uses these lights, they will be reminded of not just your business but also the generosity of your company.
The iconic Made in USA tag of Custom Maglite Flashlights have earned this classy flashlights a few brownie points in promotional circuits. The trusted choice of the connoisseurs of quality and elegance, these flashlights are conceptualized, designed, manufactured, and patented in USA. One of the toughest flashlights available in market, these interoperable flash lights make priceless gifts all round the year during tradeshows, events and conventions. You can also hand these out as personal gifts or tokens of appreciation for your employees during company picnics or raffle events among others.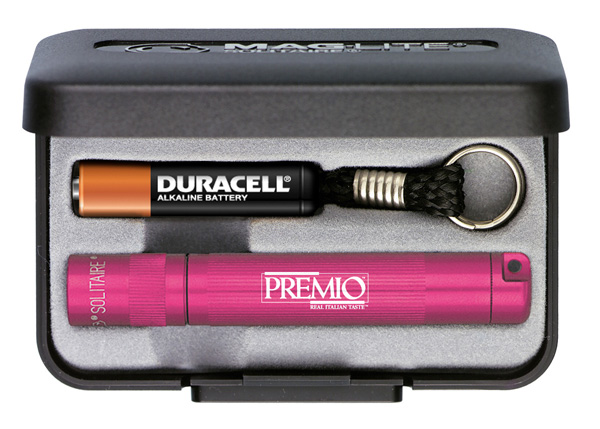 Here are some of the popular maglite flashlite models worth a closer look
Custom Imprinted MagLite Solitaire is a popular and affordable model among maglites. Its unique features like the rugged metallic construction, adjustable light beam and spare bulb in tail cap will all add up to it stunning profile. These can be used effectively to promote businesses like airlines, automobiles, and manufacturers producing high precision instruments.
Are you looking for a special gift for those who attend the presentation about your company or who signs up for your mailing list, then Custom Camouflage Mini MagLite will be a good option to draw more visitors to your booth.
Maglites still retain the legacy and prestige of the 1970's, when these flashlights were included in emergency kits of fire department and law enforcement professionals for their durability. So, if you are a marketer trying to leave a lasting impression in the minds of your customers, then hand out these logo imprinted flashlights that will be the best brand ambassadors for your logo ever! Custom Maglite flashlights make ideal companion for home, automotive, hobby, and sporting purposes and we have a range of maglites including several small, midsized, as well as mini Maglite flashlights in our selection.