Looking For Valentine Gifts That Are Useful? Consider Heart Shaped Custom Flashlights
Thinking of a perfect Valentine day gift that will light up the way and fill the hearts of your recipients? Look no further than these heart shaped custom flashlights that are both functional and novel. Flashlights are something everyone needs in their daily lives; these are seldom trashed and everyone needs more than a couple of flashlights for their home , office, safety kits or car. The best thing is that marketers who need to reach out to a diverse and speckled target audience comprising of people of all age groups and preferences can safely place their bets on these daily use items.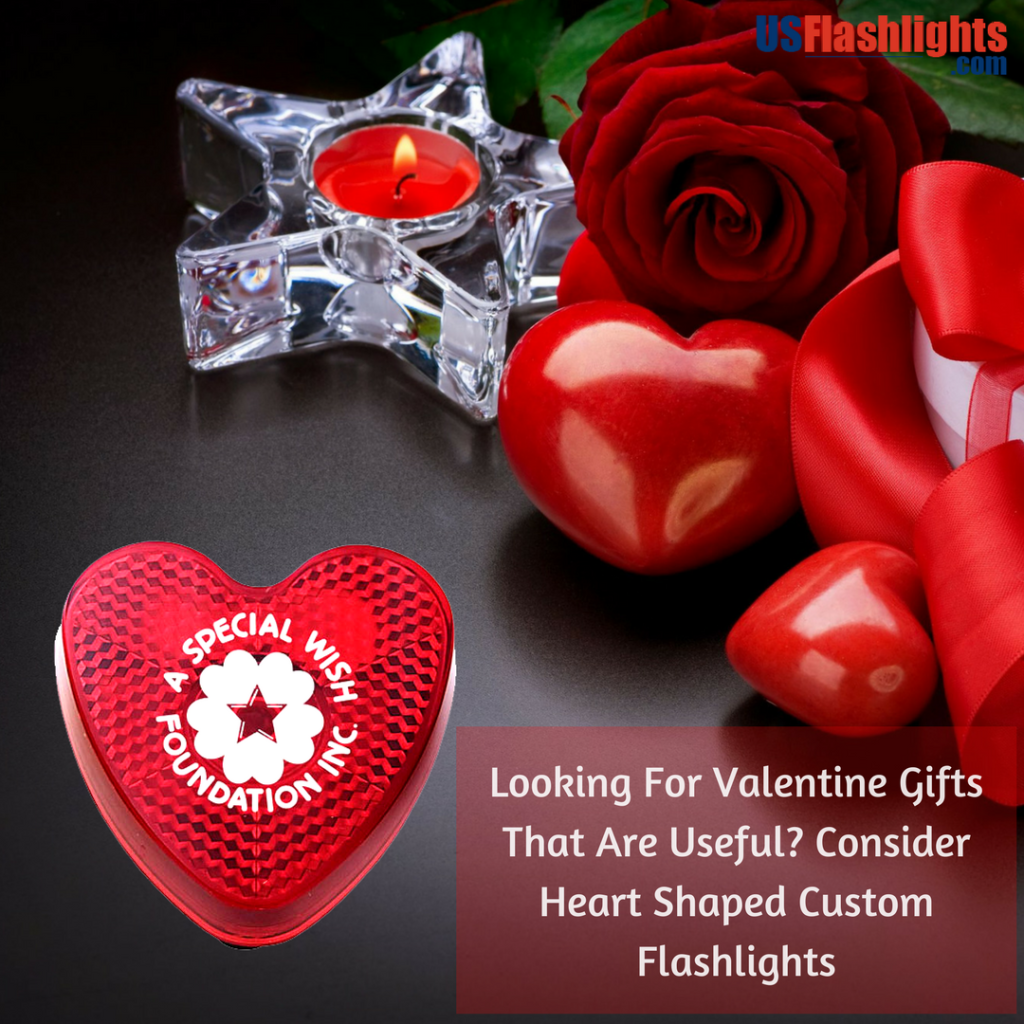 Now that Valentine's Day is inching closer, it makes a perfect time for marketers to shop for heart shaped gifts. Flashlights may not ring a bell as a probable Valentine's Day gift. However, we have a range of adorable heart shaped flashlight that will complement the Valentine's Day theme. Not many people can resist these items for sure. Personalize these with your brand and message to make it a custom gift that will earn a special place in the hearts of your recipients.
Bring in a romantic flavor to your Valentine's Day promotions by handing out these heart shaped flashlights.
Personalized Heart Flashlights: A perfect gift for Valentine Day promotions, these heart shaped flashlights that are illuminated with red LED will make a delightful custom gift to promote fashion concerts, night clubs, fun events and bars among others. These flashlights that can be controlled through a click on/off button at its back will grab a lot of attention as they can be attached to back packs, pockets and belts. Imprint your brand and message on these flashlights and see how these Valentine's Day gift will grab easy attention of everyone around.
Credit Card Heart Shape LED-White These sleek flashlights that emit red colored light will make a perfect gift for Valentine Day promotions. Sleek and light weight, these LED flashlights can be slipped into pockets or purses easily. These ecofriendly flashlights will make a good choice for safety awareness programs, store promotions or tradeshows.
Micro Aluminum LED Light with Key Clip: Offered in a range of brilliant metallic colors including the Valentine's Day gift color of red, these LED light keychains will easily cast its magical spell over your recipients. Easy to carry in pockets and purses, these LED light with keychain will make a great party favor, store promotional items and more. Customize it with your brand and message to make it a memorable gift that your recipients will cherish for a very long time.
Spread light and celebrate love in the air with custom flashlights that make high utility gifts that will enjoy a high level of retention among the recipients. Share your experiences of using flashlights as Valentine's Day gifts in the comments section below and join the conversation.