Solar Powered Custom Flashlights- Show The World That You Care
Solar power is a natural and clean source of energy that won't leave any carbon imprints. Marketers inclined for a responsible and socially committed marketing will find solar powered flashlights a perfect gift choice. Ideal for the holiday outdoor trips and travel, solar flashlights make trending gadgets that are hard to get overlooked. Personalize these with your brand and message to make it a portable billboard of your brand and a token of appreciation for your clients and customers. Every time they use these custom flashlights, your recipients will be reminded of your brand and ecofriendly initiatives. Apart from lighting up their way, these logo items will spread environment friendly awareness among the audience.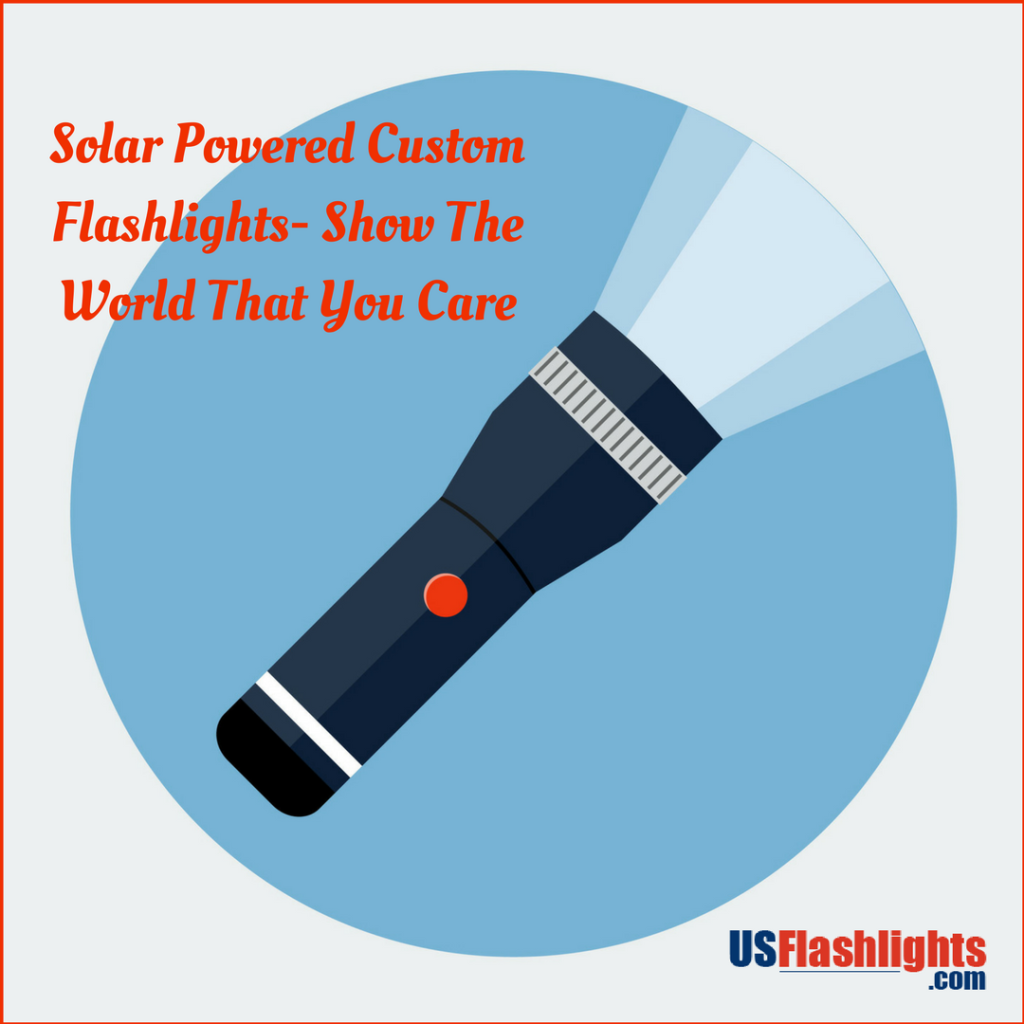 A solar powered flashlight turns sunlight energy into electrical energy in a solar photovoltaic (PV) cell outside the flashlight, which is then stored in a battery. Most solar powered flashlights use LEDs that last longer and need less electrical current to operate. Durable and maintenance free, solar powered flashlights will make a thoughtful gift for your employees, clients and customers. Offered in various attractive models, solar flashlights can be used as mailer gifts, tradeshow handouts and store promotional items. Offered in a range of price points, these budget friendly gifts will ensure the much desired portability and exposure for your brands.
Solar flashlights are well suited for regular use as it will recharge fully only once it gets discharged completely. When the battery charge of other flashlights run out with usage, solar flashlights become more functional with usage. These are great for camping and emergency purposes as these flashlights do not need batteries to operate and ensure a reliable light source wherever your recipients go!
Here are some of the solar powered models in flashlights that can be considered
3 LED Solar Flashlights: These portable solar powered flashlights ensure not just a reliable source of light but hands free convenience and a firm grip thanks to its wrist strap and rubberized side grip. Ideal as tradeshow giveaways, store promotional gifts and demonstration gifts, these flashlights will make your recipients more conscious about the ecofriendly credentials of your brand and will inspire them to care for nature. Bulk orders carry the best rates, which means that it is the best time to get gifts for everyone in your mailing list!
4 LED Solar Camping Flashlights: Nobody can take chance with their lighting source when they are out on a camping trip. Save on batteries and stay reassured of having a reliable light at their finger tips with these flashlights that will also ensure hands free convenience for your recipients who want to explore outdoors.
4 LED Solar Flashlights: These custom flashlights that feature 4 ultra bright LED lights with built-in solar panel for daylight charging will make great items for emergency kits, road trips, adventure trips and more. Offered in a black magnetic gift box, these solar flashlights make perfect gifts for marketers who believe in giving back to the community.
Be the first one to share the post and spread the word on these ecofriendly solar flashlights.