Imprinted Keychain Flashlights – Put Your Message Under Spotlight On A Budget
If you thought promotional gifts that are exorbitantly priced are the most popular, you could be in for a pleasant surprise. Check out these ever popular flashlight keychains that are immensely popular and well retained inspite of being low in cost. Flashlights are something everyone needs in their life. Customers cherish gifts that serve them a long time rather than gifts that have only ornamental value.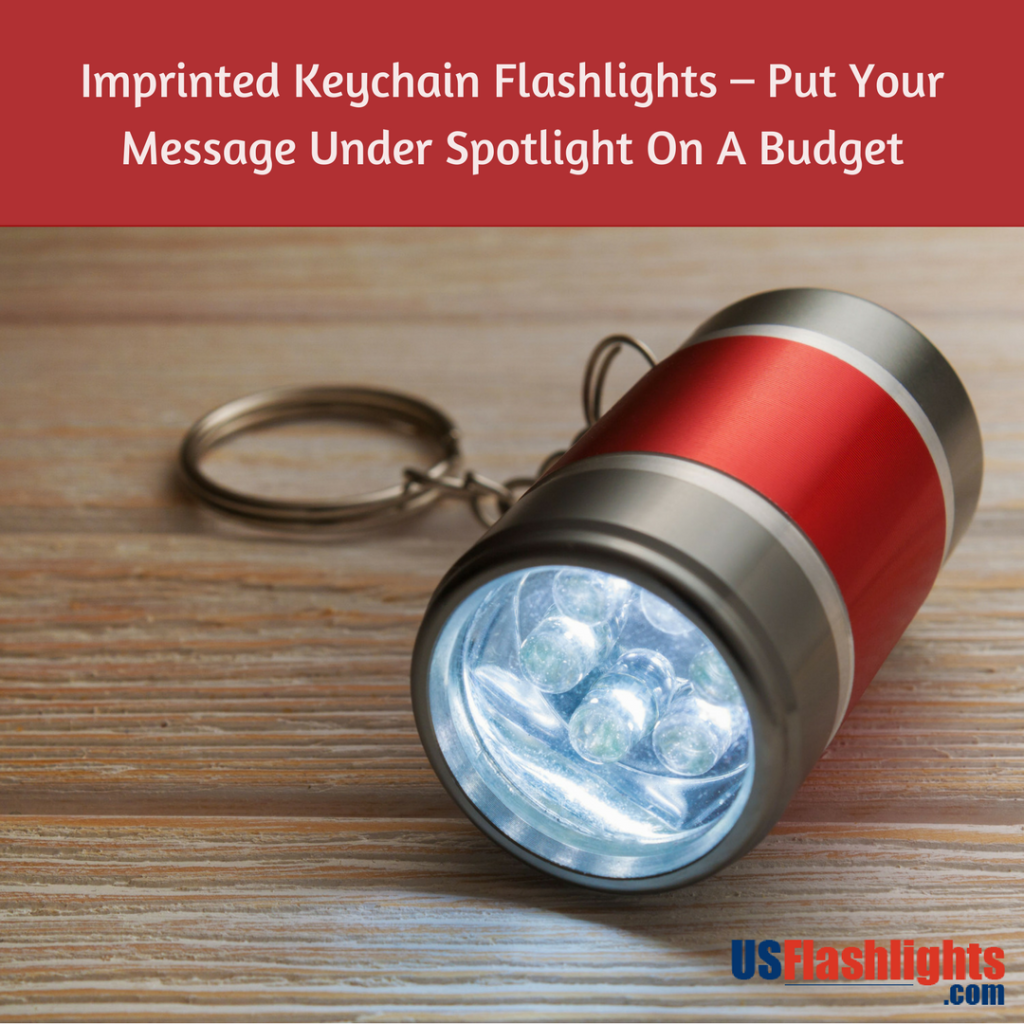 We have listed out a few benefits of LED keychain flashlights that make it popular custom gifts.
Budget friendly – Save your marketing dough without compromising on the success of your promotions with these budget friendly flashlight keychains. Every time your recipients use these as flashlights or a keychain your brand will grab a lot of attention from everyone around. These high value custom gifts will make countless impressions for your brand during its shelf life.
Functional Value: Bringing together the double goodness of a keychain and a flashlight, these logo items enjoy a high utility. Your recipients will love to use it as a brand token or even fashion accessory. LED flashlight keychains are easy to carry in purses or bags and every time your recipients use these your brand will get a lot of exposure.
Gifts that make your recipients feel safe: Flashlights make your recipients feel safe and reassured during power outages and emergency situations like tornadoes and hurricanes. As these flashlights come with a keychain, your recipients will always have a handy source of light right at the tip of their finger tips and will never be caught unawares.
Perennially popular: Flashlights are popular all round the year and make good business gifts for all seasons and reasons. Keychains will never look out of place and can be used to promote all types of events and businesses. Gender neutral and incredibly popular, these logo items will look great with your brand on!
Durability- LED Keychain flashlights posses a shelf life of around 48 hours and are considered powerful than regular bulbs. By offering a reliable source of light your brand can engage your audience with your message in a subtle way.
Choices – Flashlight keychains are available in a range of attractive models, sizes and colors that is never too hard to choose a model that matches your theme and budget.
Here are some of the models that make effective flashlights though their deceptive designs will make your recipients wonder whether they are indeed flashlights!
Mini Keychain Flashlights: These small and trendy flashlights that look more like a colorful keychain will grab a lot of attention in tradeshows and events. Go for it!
Super Bright LED Flashlights with 11 Colors: Everyone will love these super bright LED flashlights that stand out for its impressive colors and attractive profile. Your brand on these popular flashlight models will grab a lot of attention for sure.
Bottle Opener Keychain with LED Light: This 3 in one gift that turns into a handy bottle opener, a flashlight and a keychain all at once will make your recipients fall in love with your brand at first sight!
How do you plan to employ flashlight keychains in your promotions? Share your thoughts at the comments section below!